Last weekend, I created a summer alfresco tablescape for our guests, using warm ochre colors, representative of the hot summer weather we have been having in Asti.
The focal point of the table, a French confit pot filled with sunflowers!
Sunflower themed napkins and majolica plates continue the theme.
A rustic burlap runner and willow placemats are right at home on the cement table under the mulberry tree.
Since our guests hadn't arrived yet, and dinner was planned for late evening when the temperature cooled down, I added the mesh domes to the place settings to keep the insects away.
The rosemary topiaries gave off a strong scent in the 100 degree heat...
...and later complimented the menu of tri-tip steak,
heirloom tomatoes, corn on the cob and wild rice.
It was a glorious night, with the stars and a magnificent moon too.
I absolutely love late night summer alfresco dinners, don't you?
I'm joining Kim at
Savvy Southern Style
for Wow Us Wednesday.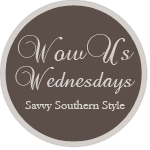 I'm also joining
The Style Sisters
for Centerpiece Wednesday.